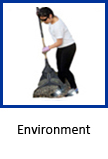 The Environment and Tree City Committee offers a program of events and hands on activities to members who wish to nurture and protect the natural environment in the Visalia area. We annually lead a volunteer event at a City park or area nature preserve. This is on Make a Difference Day, the fourth Saturday in October.
We work with City Parks, the Urban Forestry Departments, and the Sequoia Riverlands Trust to identify new projects each year.
Visalia has been designated a Tree City USA, through the National Arbor Day foundation, for over 30 years. The City administration, developers and property owners have made great strides in greening the City with trees, shrubs and other plantings over these decades. The committee is developing one or more events to assist Visalia's Tree City program, through the City Parks Department. Details will follow.
The committee continues to partner with the Sequoia Riverlands Trust by advertising Trust hands on volunteering opportunities at their land preserves, usually at weekends from September to April. The work includes landscape restoration through native species planting, removal of invasive plants and native plant propagation en masse at their Dry Creek Preserve Nursery. We advertise these volunteering opportunities at the Club Wednesday meetings and via email.
All ideas for committee activities and projects are welcome!
EMAIL US WITH YOUR QUESTIONS
(Click on the picture)

ENVIRONMENT & TREE CITY (COGS)
Randy Smith